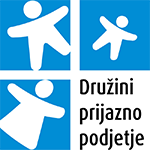 Actions Imas d.o.o.
AREA OF ACTIVITY 1: WORKING HOURS
1.Fixed central working time with a choice of arrival and departure times
Employees may, in agreement with management, select their arrival and departure times to and from the workplace within a predetermined time framework. Central working time determines when employees need to be at their workstations.
2.Time accounting
Overtime is recorded as a time credit or owed hours. Time credits allow for work absences for holidays or training.
3.Part-time work due to family commitments
Employees with family commitments may work part-time for a certain period of time. The organization/company, in addition to complying with legal options according to which one of the parents may choose to work part-time, allows employees to opt for part-time working hours based on family needs, regardless of the age of the child or particular needs of other family members.
4.Child time bonus
Parents get a free working day for the first day of school for children in the first three years of primary school. During the week a child first enrols in a kindergarten, employees are offered a flexible work schedule with fewer working hours.
5. Usage of annual leave
Parents of school-age children are given precedence when planning the utilization of leave during school holidays.
6. Special leave
In addition to the rights provided for by the collective and corporate contracts, employees are also granted unpaid special leave for exceptional family reasons.
7. Additional leave
Employees are also granted additional paid leave for important family reasons.
AREA OF ACTIVITY 2: WORK ORGANISATION
8. Substitution
In agreement with their superiors, employees may leave their job during working hours and perform shorter private obligations without taking specific forms of absence from work, but not for more than 4 hours. This time of absence is suitably substituted.
9. Team work
Within workgroups and in agreement with their superiors, employees may decide on the distribution of work between the members of a working group, also determined based on requirements of work and family situations of individual members.
10. Rules for participation in a team
The workgroup has basic rules and criteria known and observed by all members of the team.
11. Work travel
The family situation of employees is taken into account when allocating work travel and activities outside the workplace.
12. Notification regarding major upcoming changes
Major changes in the organization/company may significantly impact the core aspects of life of employees, especially employees with children due to long-term relationships with the local environment (child-care, school, property ownership). Therefore, the company ensures timely notification to employees about upcoming changes in the company.
AREA OF ACTIVITY 3: WORK POSITION
13. Work-At-Home option
Employees in certain business processes may also alternately work in the office or from home.
14. Financial and technical support for jobs at home
The company co-finances equipment for work at home (alternating tele-work, tele-work at home or the option of working from home) or covers the costs of technical equipment or provides the use of company laptops, mobile phones or other equipment.
AREA OF ACTIVITY 4: INFORMATION AND COMMUNICATION POLICY
15. Information platforms
Company communication and information are implemented via the intranet and bulletin boards. Informal talks between employees are also possible in the lounge and lunch areas.
The company publishes measures that support the reconciliation of work and family life and the conditions for their implementation in practice on the bulletin boards and intranet.
16. Work meetings/employee assemblies
Work meetings are convened by the director twice a year. Important events in connection with the company, current issues and future plans are presented to employees there. The meetings also enable conversations and the exchange of information regarding important novelties. Employees may ask questions, draw attention to problems and give recommendations regarding the reconciliation of work and family life. This topic is a standing item on the agendas of these meetings.
17. Entertainment/employee trips
The company organizes a picnic for employees which includes family members twice a year. Once a year, the company organizes a short, one- or two-day trip for employees.
18. Opinion polls
Company management collects information regarding employee satisfaction, their recommendations regarding improvements and wishes concerning the management-employee relationship, as well as reconciliation of work and family obligations via questionnaires.
19. Transmission of information to absent colleagues
Employees continue to be involved in internal communications also during their absence.
20. Information of a special nature
Employees can receive information related to employee private life (child benefits, income tax, kindergarten registration forms, etc.) from the general office.
21. Representative(s)for questions regarding the reconciliation of work and private life
The company has defined a contact person who is responsible for all issues relating to the reconciliation of work and private life, who at the same time, represents the interests of employees with family commitments and their relationships to the company.
22. Engaging in the public
External users can receive information about the company on the company's website. Visits and presentations of the company are organised in collaboration with schools.
AREA OF ACTIVITY 5: LEADERSHIP SKILLS
23. Philosophy/Principles
Fondness for family and the equal treatment of women and men represent the basic elements of the company's management principle observed within the context of its overall business philosophy and are enshrined in values or strategies regarding the treatment of people at work. Management is understood as a service to colleagues. Leadership takes into account the interests of employees, whereby the issue of reconciliation of professional and family obligations is always of key importance.
24. Leadership and social skills
The company takes into account personal characteristics, such as ability to communicate and acceptance of criticism, willingness to solve conflicts and awareness of responsibility when selecting personnel for leadership positions and for promotions.
25. Assessment of management by subordinates
Employee assessments are taken into account when evaluating the performance of management, also to the extent to which managers (within the scope of possibilities) provide assistance in reconciling work and family life.
AREA OF ACTIVITY 6: HUMAN RESOURCES DEVELOPMENT
26. Design and implementation of continuing education programs
Continuing education programs are aligned with the needs of employees. Employees have the right and duty to continue their education, development and training in accordance with the needs of the working process. Part-time employees receive the same opportunities as full-time employees regarding continuing their education.
Employees who for family reasons are absent from the workplace may still participate in further education.
27. Individual career development plans
The organization/company takes into account individual life stages when drawing up individual employee career development plans, as well as aspects of reconciling the employee's profession and private lives.
28. Promoting women
Women are given special incentives for participating in further education, taking into account their family commitments.
29. Family commitments are not a reason for refusing to hire or promote an employee
Only their qualifications determine the employment or promotion of employees. Family obligations do not affect staffing policy decisions.
30. Consideration of employee engagements outside the organization/company
Individuals learn or improve important social skills within the family or through volunteer activities. These skills are considered as an additional qualification when employing or promoting employees. The company encourages employee engagement in volunteer activities (fire brigades, ambulance services, etc.).
31. Advertising equal opportunities
The organization/company uses the following principle in its job advertisements: "We employ people based on the principle of non-discrimination and equal opportunities."
AREA OF ACTIVITY 7: PAYMENT STRUCTURE AND PERFORMANCE BONUSES
32. Loans and financial assistance
The company offers its employees loans or transitional financial support connected to their social or family situations.
33. Scholarships for employees' children
The company offers scholarships to employees' children if they choose to continue their studies in the mechanical field.
34. Work during school holidays
During the school holidays, the children of employees may engage in holiday work at the company.
35. Santa Claus
Employees' children up to the age of 15 years receive presents from Santa Claus. The company prepares gifts up to the statutory allowed value of gifts.
36. Using organization/company inventory for private needs
Employees in agreement with their superiors may use company inventory for private purposes. This policy does not apply to consumables and raw materials.